DIMO now supports vehicles 2008 and up
Up until now, DIMO has supported vehicles from 2012 and newer. We've been testing with older vehicles, going back to 2008, and while there may be some instances where support fails, we're excited to welcome vehicles from 2008-2011 to connect to DIMO, earn $DIMO rewards, and use the DIMO marketplace.
Cars are complicated, and there could be some instances where vehicles that we expect to be compatible simply won't work. Our support team ([email protected]) is prepared for troubleshooting and testing, and we'll happily work with you if you run into issues connecting your car.

If you've been waiting for support to expand, we're glad you have stuck with us and we're excited to offer you a discount to get started with DIMO:

For cars made between 2008-2011, the vast majority of them have never been connected to the internet. DIMO allows you to bring your car into this decade. 91% of new vehicles sold in the US in 2020 were connected to the internet in some form, and that number is growing quickly to 100%. From capable vehicle apps that show vehicle data and allow you to control your car, to the ability to track and manage ownership virtually, connected cars' capabilities are growing exponentially.
Connected car features shouldn't be limited to just new cars, and we are proud of the fact that we can now usher in the future of vehicle ownership to even more vehicles.
Want make sure your older car will work? If you head to explorer.dimo.zone and look up your car, you can see if any are already connected, like in the image below. This means we do support your vehicle! If yours would be the first of your make, model, and year, there's a chance we'll need to do some testing to make the connection smooth, but again, our support team can help make things work.
Why should I connect my vehicle?
With a recent app update packed with new features, there has never been a better time to connect your daily driver, or your entire fleet. DIMO allows you to have all your car's data in one place, making maintenance, refinancing, lowering monthly payments, and other cost-saving tasks as easy as possible. With the DIMO Marketplace, you're able to access similar services that you're paying for today at a discount, earning $DIMO rewards for every purchase.
Haven't been following along with the game changing benefits DIMO offers? Here's a quick refresh to get you caught up.
A new look to $DIMO Rewards
Users earn DIMO rewards three ways: baseline rewards for connecting their car, marketplace rewards with each marketplace transaction, and referral rewards when you refer a friend.
In the app, you'll be able to see a detailed breakdown of your earnings in two sections: "Your earnings" and "Network earnings".
In Your Earnings, you'll see a breakdown of your $DIMO earnings by vehicle, including your streak and integration method. Additionally, this section will display earnings from marketplace partners.
The Network section provides overall DIMO Network statistics like cars connected, total miles driven, and all-time baseline $DIMO distributed. This enables users to gain insights into their rewards relative to the growth of the DIMO Network.
Vehicle Valuation
DIMO gives some power back to drivers with our vehicle valuation feature: real-time resale values through several sources all in the palm of your hand. For most car owners, deciding when to resell a car usually involves scrolling endlessly each week through several different sources, or simply picking the best low effort offer available. With DIMO, you'll have these sources tracked for you, allowing you to figure out when and how you'd like to sell.
Here's the breakdown of what you'll see in the DIMO mobile app:
Retail — What a dealership expects to sell your vehicle for
Trade-In — What you can expect to receive from a dealership after an appraisal
Instant Offer(s) — What a vehicle-purchasing site is willing to offer you for your vehicle site unseen with limited information
The DIMO Marketplace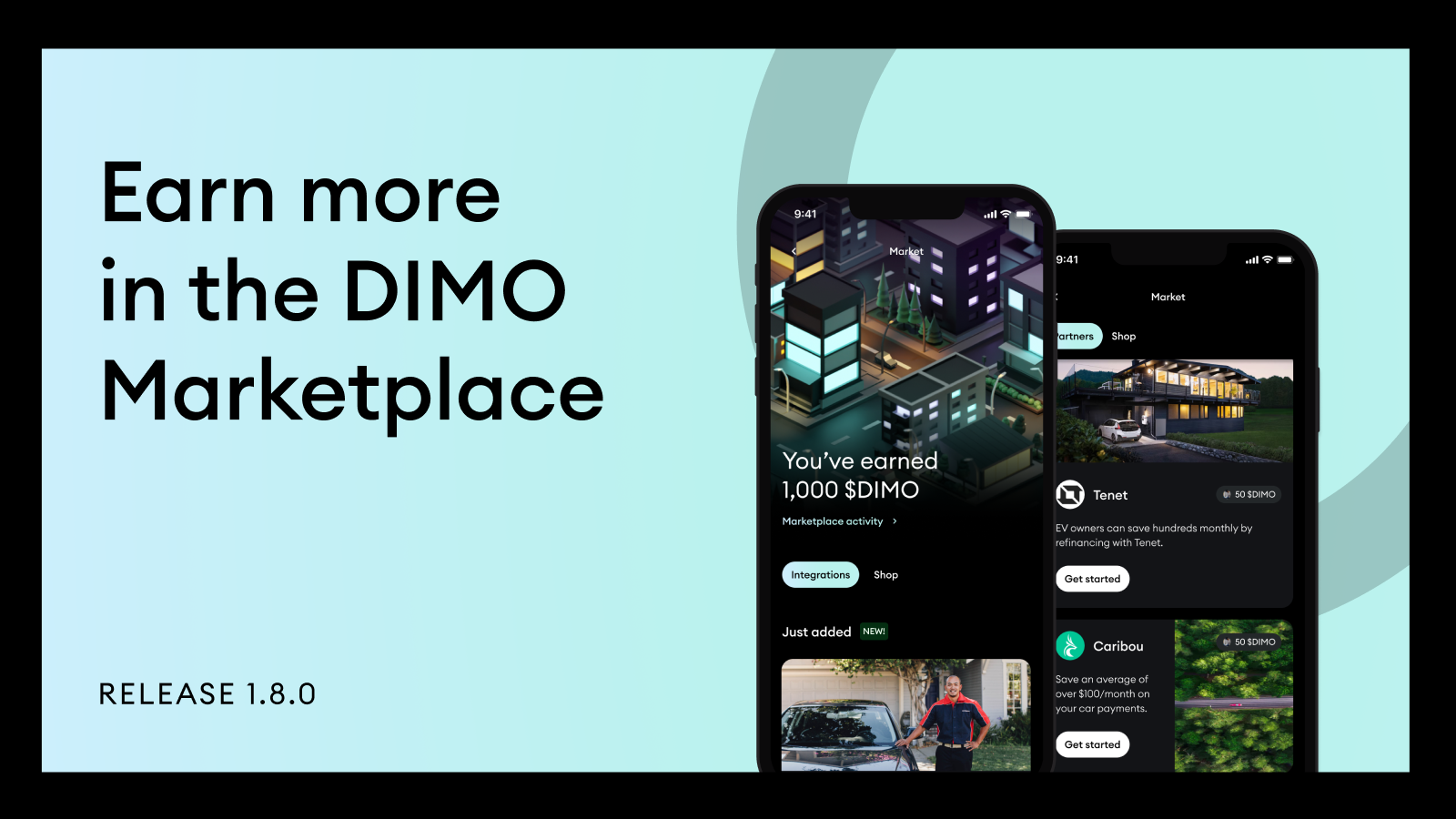 The new Market tab, and it's the most important part of DIMO. The DIMO Marketplace showcases cost-saving services, vehicle utilities, and will come to include games and add-ons that make owning a connected vehicle more rewarding and fun. When using these services, drivers earn $DIMO rewards.
Whether you're registering your vehicle, booking maintenance, refinancing, enrolling in a quest, turning on a WiFi hotspot, or selling your car, you'll find a partner or utility in the DIMO Market tab. When you transact in the DIMO marketplace you exchange data with the service provider you're working with, leading to more efficient and valuable transactions. Data is the driving force.
At the moment, third-party Marketplace partners are all US-based. There will be DIMO Mobile app add-ons available globally in the near future, and we're working to bring international partners to the DIMO Mobile app so that every driver has access to these cost-saving or car-enhancing services.
Here are a few of our favorites that you can use today:
YourMechanic - Have your vehicle maintained at your home or office by a mobile mechanic
Caribou - Take control of your car's finances
LeaseEnd - Save money when you refinance or break your lease
Tenet - Lower your EV monthly payments with stacked tax credits and refinancing assistance
Vehicle Genius (join 400+ users on the waitlist) - A simple subscription that saves you time and money on your vehicle ownership spend

Written by: Alex Rawitz
Cofounder
Alex Rawitz has spent 10 years in and around startups in the crypto and IoT world, and is always looking to put these technologies to work making people's lives better. Prior to DIMO, Alex worked with exchanges, defi protocols, and fintechs at Chainalysis. Before that he worked in sales at Servato, an IoT company in the telecom space. He started his career at a startup accelerator, The Idea Village, in New Orleans.