Introducing DIMO Explorer: DIMO Network Data Visualized
Since launching DIMO in December of 2021, we've spent a lot of time listening to users. A few questions lead the way:

1. What kind of activity is happening on the network?
2. How can I get my car connected?
3. What will I be able to do with it once it's online?
To answer these questions, we've built the DIMO Explorer.
For drivers, Explorer confirms if your car is supported on the DIMO Network, and allows you to participate directly in the ecosystem, from adding car reviews to contributing compatibility data.
For enterprises, information about the network and the type of data users are collecting and sharing can be found across the product. Deeper sample data is available by request by reaching out to the DIMO Insights team.
For developers looking to build on DIMO, you can view which vehicles have what data available as you set out to design your application.
What Data is Available in Explorer?
The goal for every vehicle is to represent several categories of information:
1. DIMO Telematics Data
2. Market Data
3. User generated content
DIMO Telematics Data
We'll surface what DIMO data, like tire pressure or battery health, is collectable from any particular vehicle as well as the real, DIMO Network data that has been collected in the field. For instance, you'll be able to track trends in charging and battery health across connected Tesla Model 3s across the public number of DIMO users with that vehicle.
Our goal is to provide drivers a much more data-driven window into what to expect from their vehicle. If you think about it, it's amazing that there isn't more widely available open source data on how specific vehicles perform over time. There are no shortage of review sites, but few places that are looking at the data to help inform drivers.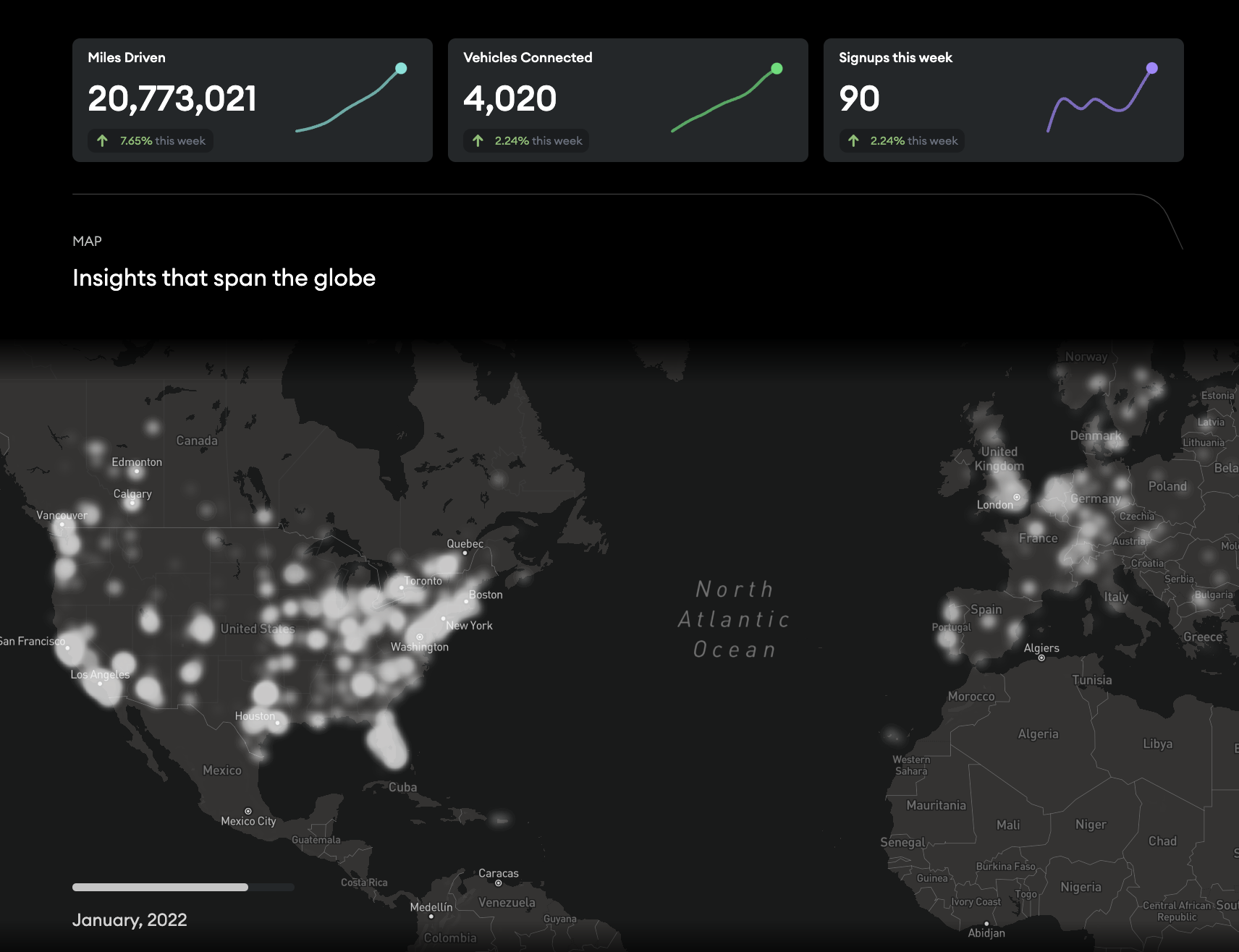 Market Data
Market data is critical too. DIMO has started pulling valuations from multiple sources to surface how different marketplaces value the same vehicle differently. We know that opaque pricing is often used by vehicle marketplaces to take advantage of consumers, and we believe in making this more accessible to drivers in the DIMO Mobile app. As a vehicle owner, you should have a lot more visibility into your car's value and the market as a whole.
User Generated Content
Of course, outside of all this hard data is a human element. People love cars and they love talking about and reviewing cars. We're setting up Explorer to accept user generated content like photos, videos and reviews of vehicles to enrich the way a user can truly explore a vehicle. In the near future, users will be able to submit content; the best content we receive will be posted publicly.

Look Up Your Make & Model's Capabilities on DIMO
Different cars have different data available. Some cars allow you to connect via software (like Tesla), and others require the DIMO Device.
Explorer gives you visibility into all of that, providing specific instructions for your make and model and a heads up on what data you will find in the app. We've built out thousands of pages, so practically every make, model, and year is represented all in one database. We want there to be no surprises when you get connected, and a clean interface to communicate everything you need to know.
We've built out thousands of pages–one for every make, model, and year is represented. Our goal is to make Explorer a valuable resource for anyone researching vehicles to buy or lease in the future.
In order to put this database together, our engineers worked for over a year collating makes, models, and years of vehicles across tools and databases, incorporating feedback from tens of thousands of vehicles all over the world. Today it is quite complete for the US and Canada, with much more work to be done for European vehicles, not to mention the rest of the world.
If you can't find your vehicle, you can reach out to [email protected], and we'll help get you connected.
What will we learn from thousands of connected cars?
DIMO is not a science experiment — real drivers have connected their vehicles, they're driving millions of miles every month, and developers are building apps that help users make better decisions with the data from their vehicles.
As the network grows, the total pool of data becomes more valuable, and we're seeing more and more developers interested in building on this growing platform.
To make things clear and showcase what we're capable of producing at this moment, here's a quick summary of some reports that have been generated today, and are beginning to make their way into DIMO apps:
Real-Time Vehicle Valuation: Over $150,000,000+ worth of cars connected to DIMO today. $1.5B if you count cars added, but not connected to the network. As the used car market continues its volatility into 2023, we're giving drivers the ability to maximize their vehicle's value and make better decisions by plugging in real time valuation tools. Drivers in the DIMO beta tester group now have the ability to find out what their car is worth on several resale markets (Vroom, Carvana, Carmax etc.) simply by opening the DIMO Mobile App.
EV vs. Gas Vehicle Usage Trends: Americans tend to think buying electric means being tied down to low range trips, slow charging times, and limits on where you can drive. A recent report on DIMO claims the exact opposite. On the DIMO Network, the average trip from home in a gas powered car is 55.5 km, where for Tesla it's 72.5 km. You can check out some of the other early insights here.
OTA Software Update Performance: Car manufacturers (OEMs) are moving fast to standardize over-the-air software updates. Soon, the car you have a year later will be a different car than the one you bought. Companies like Tesla have mastered these kinds of updates, but other major car companies are still catching up. Users deserve visibility into the quality of connectivity vehicles provide.
We expect all of this aggregated data to be a resource to developers and even more so to those in the auto industry, whether those are OEMs, vendors, vehicle marketplaces, journalists and more. We're always looking for insight into what data people want to see, so feel free to reach out to DIMO at
[email protected]
.
Check out Explorer and Connect your Car
Now it's time to go checkout Explorer and if you haven't already, add your car to DIMO.
Written by: Alex Rawitz
Cofounder
Alex Rawitz has spent 10 years in and around startups in the crypto and IoT world, and is always looking to put these technologies to work making people's lives better. Prior to DIMO, Alex worked with exchanges, defi protocols, and fintechs at Chainalysis. Before that he worked in sales at Servato, an IoT company in the telecom space. He started his career at a startup accelerator, The Idea Village, in New Orleans.