Introducing the Fleet Tab in DIMO Mobile
The new Fleet Tab gives consumers and fleet owners more out of their cars.
For consumers: Never before has there been a mobile app that allows you to access and control multiple vehicles from different OEMs in the same app, log performance data, and store all of your vehicle documents in one place. In other words, if you're ever switching between your Ford and Toyota, or Tesla and Chevy apps, those days are over.
For fleets: We're re-imagining from the ground up your relationship with fleet telematics and building a better platform to access services that help your business needs.
What's new:
See all of your DIMO connected vehicles in one view

Monitor, maintain, and compare usage across your vehicles

See all your vehicles on one handy map
Built for:
Managing vehicles for friends and family

Comparing performance between your vehicles

Running your business
DIMO is onboarding users to the best connected vehicle experience. For the roughly 60% of American households that own more than one vehicle or the 200,000 private companies that operate fleets, that experience just got better. This is the starting point for a lot more native features and applications to come that will continue to enhance the multi-vehicle experience. And of course we don't just mean the U.S. — DIMO is available in Canada and much of Europe today.
But let's dive into this brand new interface and unpack some of what's inside.


All Your Vehicles In One App
Today DIMO offers three ways to connect vehicles to the platform:
Smartcar Integration — with a compatible car you can add and connect your car in minutes, storing data like location, tire pressure, fuel level, and more.

Tesla Integration — We've built a direct connection to the Tesla API that allows you to pull even more of your own Tesla data into the DIMO app.

DIMO x AutoPi — The first DIMO compatible hardware device allows anyone with a car made in the last 10 years (expanding soon) to collect and store their vehicle data.
By combining these integration methods, users can add virtually any combination of vehicles to DIMO today. This provides unprecedented flexibility to consumers and as far as we know, it's an industry first.
Monitor, Maintain, Compare
If you have multiple vehicles at home or at your business, the health and usage of your vehicles are sure to cross your mind. DIMO helps track mileage across your fleet and will make comparing vehicle states – like fuel level or maintenance requirements – simple.
Know that some of your vehicles are used more than others, but not sure how much? DIMO can read patterns across your vehicles and tell you which ones are seeing a greater load than others and how that compares to past weeks.
As with any data stored in DIMO, this data will become more valuable over time as DIMO democratizes access to features traditionally used by fleets in old, ugly, enterprise software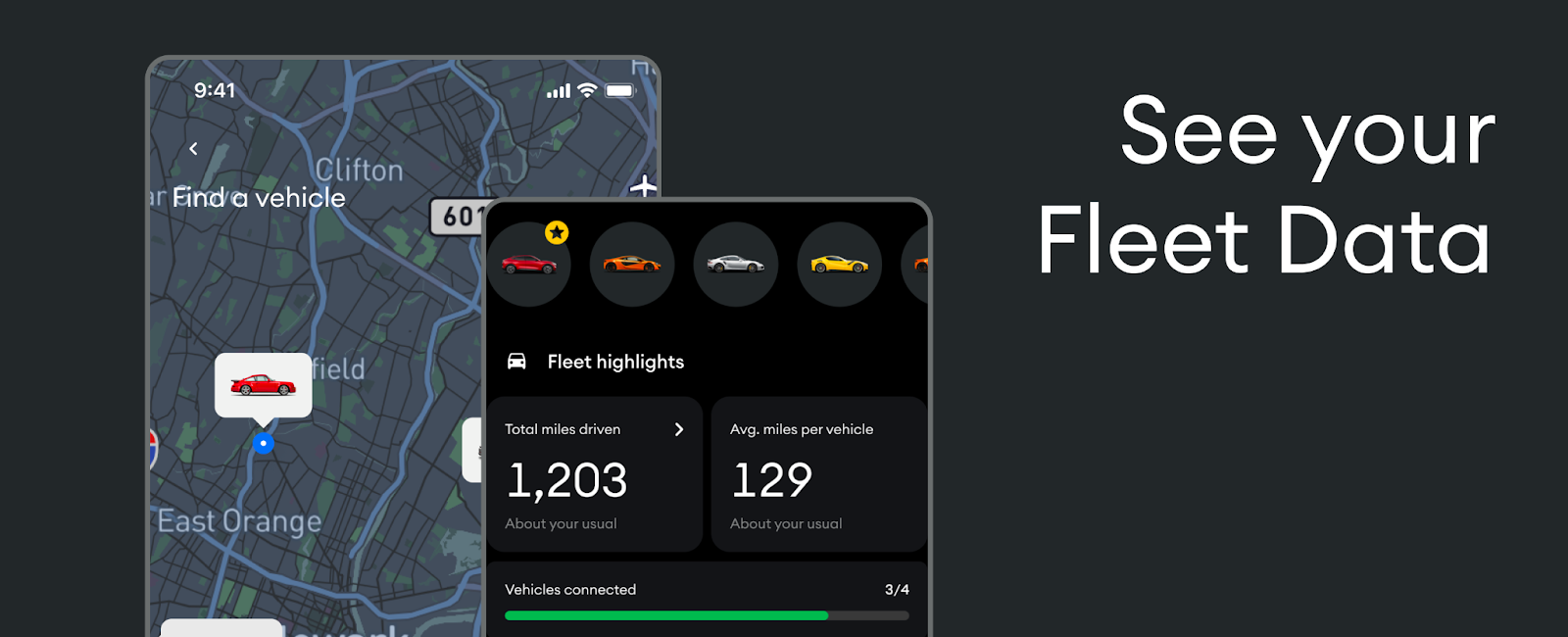 Fleet Map
Maybe your family borrowed the cars or your employees are all out on job sites, but no matter what, if you have more than one vehicle, you have to have thought about tracking them all at the same time. GPS is enabled through any of the integration methods outlined above, so if your cars or trucks are connected, you'll be able to see where they are in DIMO.
Your Multi-Vehicle Future
Add and manage vehicles for family and friends
Not all of us are vehicle experts, so the reality of vehicle ownership is that we all often rely on a friend or family member with a bit more knowledge than us. If you're that expert, you may already be helping friends and family get connected to DIMO.
In the future you may choose to delegate some data access to another DIMO user who can help you monitor or maintain aspects about your vehicle. A great connected vehicle experience will never be just about a great app: any app must enable users to better interact with services in the real world.
Run your business with telematics you control
For the hundreds of thousands of companies that manage fleets today, telematics software is old news. Why DIMO?
Vehicles are changing and the internet is more open. DIMO is built by connected vehicle experts committed to reimagining what connected vehicle architecture can and should be. There are new software building blocks that allow us to build solutions that are more user-friendly and more open to software developers. When you have more software developers competing for your business, that's a win.
Connect your vehicles today and use some of the standard DIMO features. In the next few months, you may have an opportunity to beta test some of the apps coming soon to DIMO that help you with maintenance, vehicle sales and purchases, and more.
Get started by adding your vehicles in the DIMO App today!

Written by: Alex Rawitz
Cofounder
Alex Rawitz has spent 10 years in and around startups in the crypto and IoT world, and is always looking to put these technologies to work making people's lives better. Prior to DIMO, Alex worked with exchanges, defi protocols, and fintechs at Chainalysis. Before that he worked in sales at Servato, an IoT company in the telecom space. He started his career at a startup accelerator, The Idea Village, in New Orleans.