Hardware Update August 2022
We've been hard at work over the last few months to make good on our promise of delivering the hardware that DIMO users ordered months ago. We are now ready to ramp up shipping. The bottom line of this update is that things are basically on track from what we announced in May.
At the beginning of August we received some new inventory at our 3PL (Calchip) and members of the Digital Infrastructure team were on site to inspect the devices, set up processes, and ensure that we are ready to ship.
We aimed to ship 500 devices in August. Some of the inventory required to hit that number was slightly delayed, so we missed the mark, shipping only 320 in August. The good news is that the remainder of the August inventory and the September inventory is all either on site or scheduled to arrive next week, so it's smooth sailing for September. On the first day of September alone we shipped 124 devices.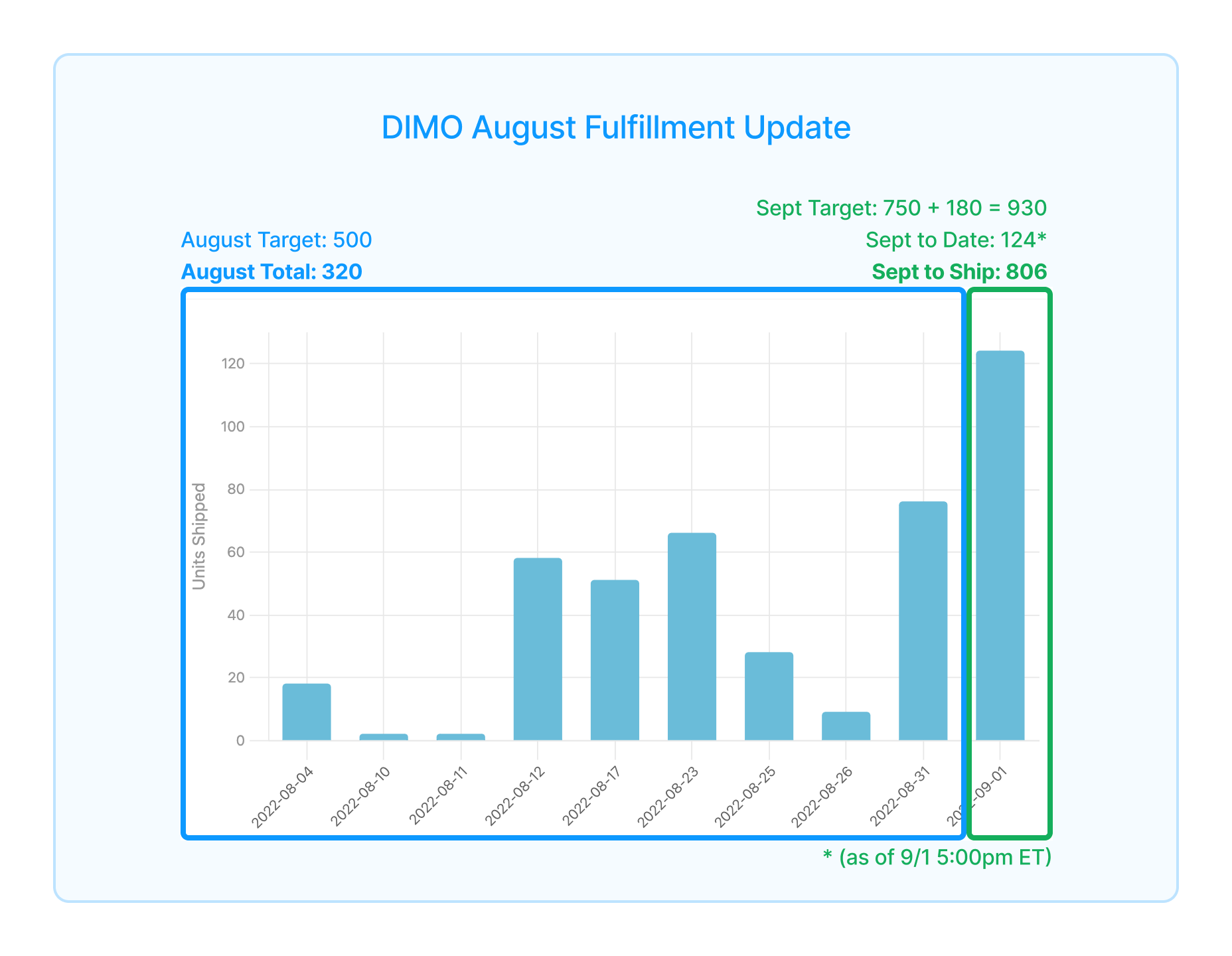 Meanwhile, DIMO Network's first hardware manufacturer, AutoPi, is keeping production moving on the remainder of the preordered devices and for devices that have yet to be sold.
Below is an updated chart based not only on our new distribution capabilities, but on the latest forecasts of devices from our manufacturer. The summary is this: we have a path to fill all devices already ordered and open the store for new orders within the next 10 weeks.
By and large our community has been patient and supportive despite the delays. 97% of people who ordered devices have stuck with us, and we couldn't be more excited to get them in your hands . For those who have been using the mobile app you have no doubt seen a continuous and impressive rate of shipment of new features.
Over the next few months the DIMO roadmap will also include a variety of awesome new updates for DIMO Data Miner specific users.The data we're gathering from them is improving and the user experience will as well.
Last but certainly not least, we know there is a ton of interest in purchasing DIMO devices. At the last mark, we had 3:1 cars added to hardware available. We're doing some final checks on the supply chain, but we hope to open the store in September. To get on the waitlist and sign up for notifications, add your car in the DIMO Mobile App.
All other Hardware and Shipping questions can be answered here: https://docs.dimo.zone/dimo/su...
Written by: Alex Rawitz
Cofounder
Alex Rawitz has spent 10 years in and around startups in the crypto and IoT world, and is always looking to put these technologies to work making people's lives better. Prior to DIMO, Alex worked with exchanges, defi protocols, and fintechs at Chainalysis. Before that he worked in sales at Servato, an IoT company in the telecom space. He started his career at a startup accelerator, The Idea Village, in New Orleans.