How to scan your car's error codes with DIMO Mobile
The anxiety that comes with a check engine light popping up might be the worst thing about owning a car. You're left wondering: are you stuck with a simple $150 fix or an issue that costs thousands to repair? Is your car safe to drive or do you need to pull over and call a tow truck?
DIMO's newest feature is set to revolutionize how consumers approach car maintenance, making check engine light anxiety and even untrustworthy auto shops a thing of the past.
Most error code readers on the market do exactly that: read error codes. They'll give you a code and maybe a basic definition of the issue, that's it. DIMO devices are able to read an error code, give you a detailed description, and provide both self-help tips and full-service options to fix the problem entirely, making this a massive time and cost saver for every driver.
2 out of 3 U.S. drivers do not trust auto repair shops. DIMO is here to solve that problem entirely–putting you in a position to avoid getting scammed by a mechanic, giving you complete confidence to understand what is wrong with your car before you bring it to the shop.
First, make sure to get the DIMO x AutoPi Device
This is the only way you're able to access the error code reader feature. Cars that connect to DIMO without hardware unfortunately are not able to access the benefits. With a cost of $349, and bulk discount prices, the DIMO x AutoPi will pay for itself in no time by allowing you to save at the mechanic or avoid the mechanic altogether.
Plus, DIMO Rewards really make that price tag worth it.
If you have questions about DIMO's error code reading feature, you can read more here.

1. Access the error code widget on the Vehicle tab. You must be with your car to proceed.
2. Tap on the "Tap to Scan" button
3. Start your engine
4. Turn off engine - enter accessory mode
5. Connect with bluetooth
6. Learn what's wrong with your car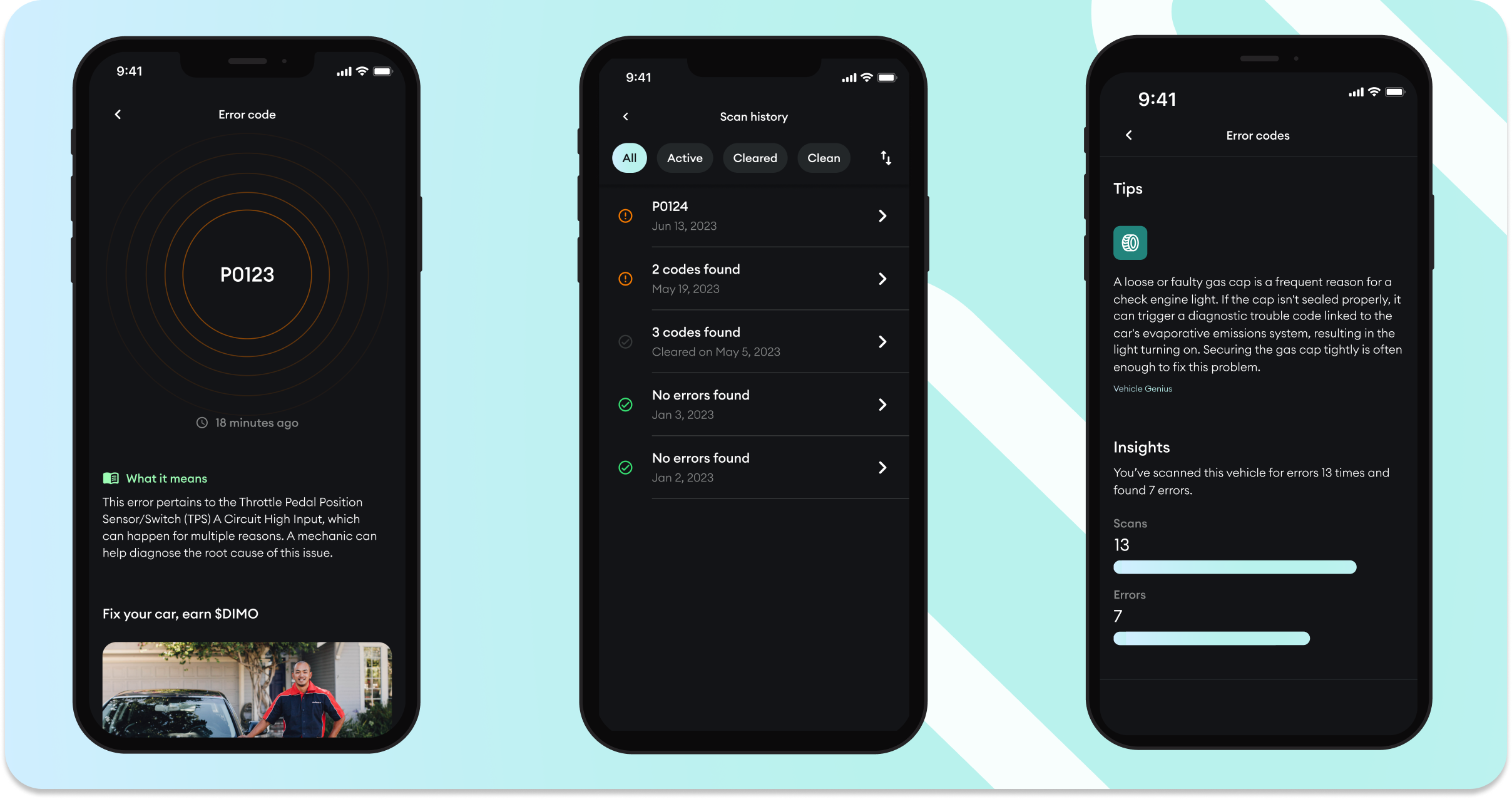 If you have questions about DIMO's error code reading features, read more here.

How DIMO gives you options to actually get your car fixed
DIMO's error code analysis feature integrates with partners in the DIMO Marketplace to create seamless repair experiences while earning DIMO Rewards in the process.
Vehicle Genius subscribers can send error code data to their Pit Crew VG team for diagnosis and repair cost estimates, plus the convenience of scheduled repairs with local, high quality vendors. Savings, ease, and rewards built into one subscription!
This feature will continue to grow over time, allowing users to fully take advantage of their DIMO data by making educated decisions based on expected costs of each repair and guidance from the Vehicle Genius team.
For users who want to schedule their own maintenance, DIMO is working on an integration with RepairPal, the leading network of vehicle repair shops in the U.S. RepairPal will provide accurate repair cost estimates and will enable easy repair scheduling directly within the DIMO app. These integrations empower car owners with expert resources and rewards for a seamless vehicle repair experience.

Written by: Alex Rawitz
Cofounder
Alex Rawitz has spent 10 years in and around startups in the crypto and IoT world, and is always looking to put these technologies to work making people's lives better. Prior to DIMO, Alex worked with exchanges, defi protocols, and fintechs at Chainalysis. Before that he worked in sales at Servato, an IoT company in the telecom space. He started his career at a startup accelerator, The Idea Village, in New Orleans.