Expanding on DIMO On-Chain Data
The following article is an expansion of the contributions to OurNetwork article #173, published last week. OurNetwork remains one of the best sources of news, analysis, and insight in the web3 world. Check out the original post here.
Introduction to DIMO
DIMO is a connected vehicle platform that is bringing one of the largest economic sectors in the world, the automotive industry, on-chain in order to build a more efficient system that makes owning a car a more cost effective and better experience. DIMO is far deeper than a "drive to earn" model, and we're reinventing the digital infrastructure that exists in the mobility world to facilitate a world that is more user-centric.
Cars are increasingly software-defined, but stuck in a "flip phone" era. Their data is spread across thousands of entities of different types: automakers, insurance companies, state DMVs, dealerships, and other retailers. This is reminiscent of the financial world where crypto has shown the potential to disrupt finance through decentralization, breaking down silos, and reinventing finance's digital infrastructure on-chain. This hurts consumers in multiple trillion-dollar markets, holds back automation and electrification, and is a privacy nightmare.
A new approach is needed.
Today, DIMO is live with the first network client, the DIMO Mobile app for consumers and fleets, almost a dozen partners, and over 16,000 cars connected. Let's learn more.
What most people get wrong about DIMO: Big Data vs. User Data
Upon hearing the idea of user-owned data collection on DIMO, many assume that the goal is to build the biggest possible data set and then monetize that aggregated and anonymized data with big enterprises. While this will exist as one use case, it's important to understand that this is not the full vision of DIMO — it's a small part.
The bigger, far more valuable vision is a system that allows drivers to share their data directly with companies they want to transact with, enabling both sides to take advantage of new infrastructure for data exchange that makes transactions more efficient and opens up new possibilities and products. Why is this the case?
Automotive companies from individual developers to large enterprises care far more about getting data from individual cars. If you're a large used car marketplace like Vroom or Carvana in the business of buying and selling cars, it's more valuable to you to be able to know exactly what's going on with a specific car you have in inventory or could buy vs. what's happening in aggregate across 1 million cars. The same is true of insurance companies and any other business in the auto-world: you can better price or deliver a service to a customer when you have data specifically on them instead of in aggregate.
The DIMO solution is to make this world feasible by ensuring that users are in control of their data and can choose to share it when and with who they would like. You may share your error codes with a maintenance provider one day and your trip history with a business miles logging app the next like connecting your wallet to your favorite DeFi applications.
This model still has powerful network effects because each new user represents a new customer to the ecosystem, not just a new marginal data point. As more users connect their cars, those are more customers for developers and partners to services.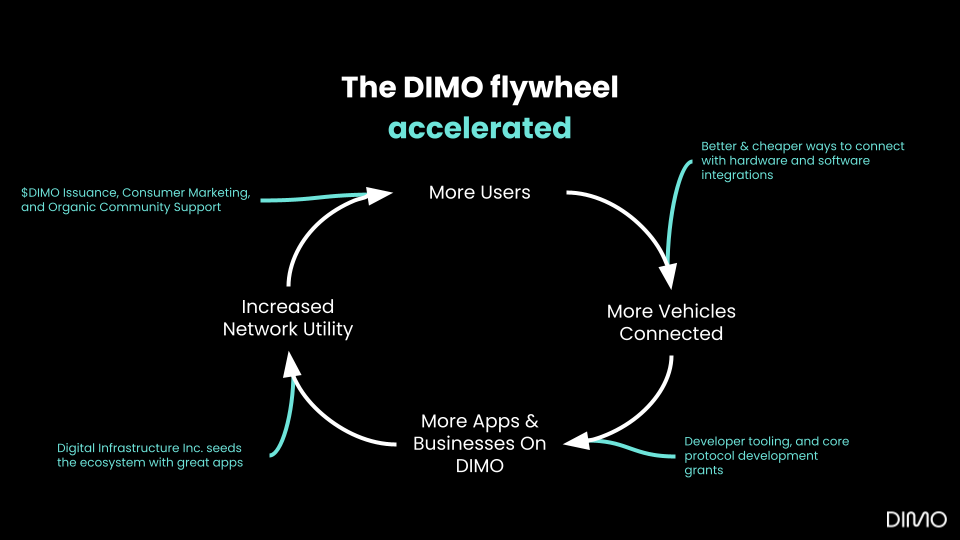 So what does the network look like today and where is it heading?
DIMO Network Growth: Vehicles and Users
Number of connected vehicles and number of vehicle owners. Many households have more than one vehicle, and DIMO is onboarding more and more fleets. These vehicle IDs are naturally sybil resistant since DIMO is performing verification work on these as they are minted and after.
The graph below shows two on-chain metrics: number of connected vehicles and number of vehicle owners. Many households have more than one vehicle, and we are onboarding more and more fleets. When a car is added to DIMO, an on-chain vehicle ID is created, which is how this number is generated. Users who are minting this vehicle ID own it in their wallet. They can transfer it (in the case of creating a car to help someone else onboard to DIMO) but most of the time they hang on to the id.
Importantly, these vehicle IDs are naturally sybil resistant since DIMO is performing verification work on these as they are minted and after.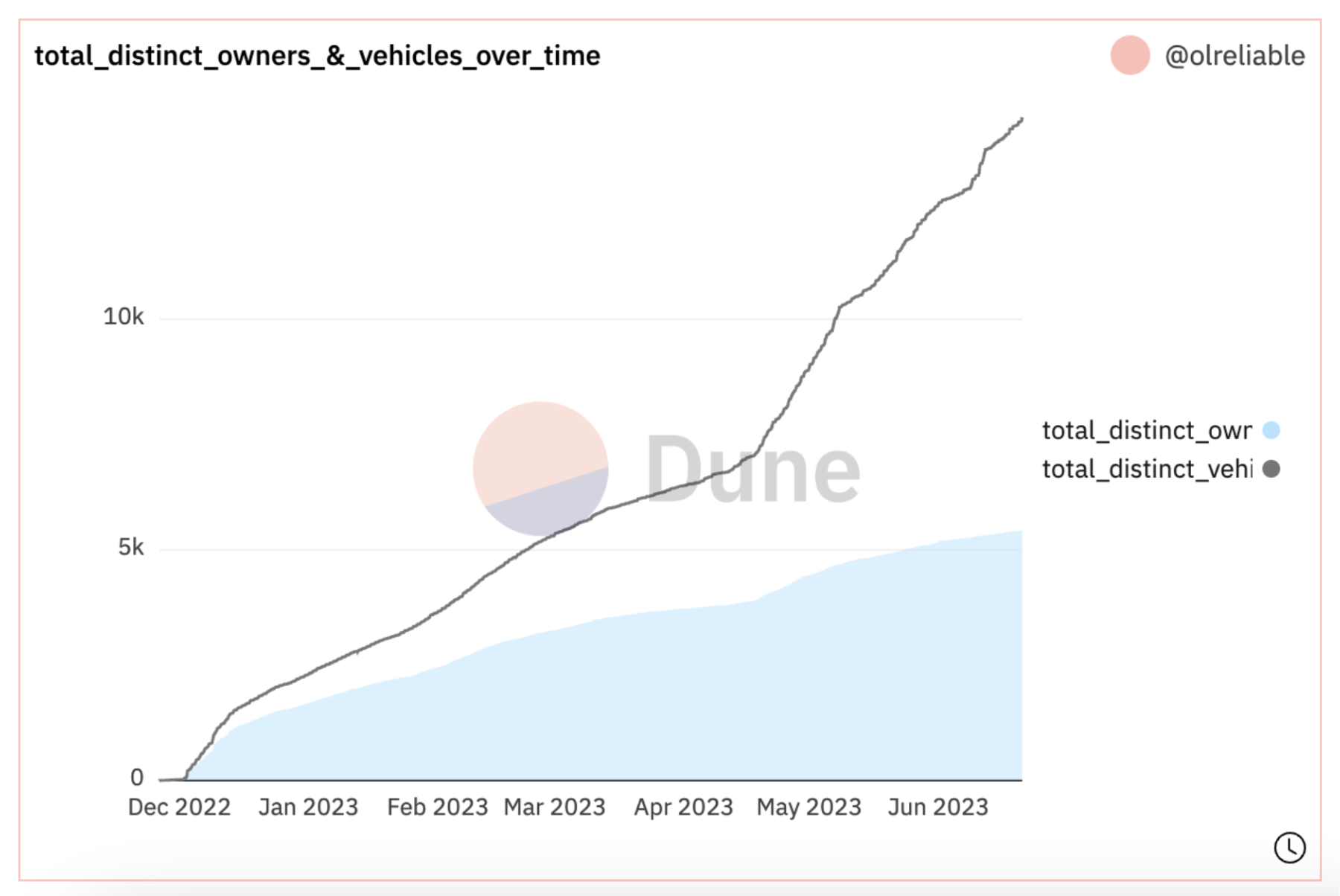 Before millions of users are using future apps like DeFi car loans or insurance products built on DIMO data, the network needs to grow. Again, each new driver is not just a data point, but a new customer for the dozens of partners already building or planning to build on DIMO.
Tracking this number is akin to tracking active addresses on an L1 or L2. The number of active addresses gives an indication on the health of the protocol as it shows the number of potential customers.
Bringing the auto world on-chain (as much as we can)
Much has been written and much effort has been put into bringing financial businesses into the blockchain world. You don't need to look farther than every article written about how some bank or payments company is looking to get into crypto. It's been a slow road seeing these businesses get started
One of the missing pieces in our opinion is that in our interconnected economy other businesses outside of the financial sector have never had an incentive to adopt crypto. Why would a car insurance business get involved? There's never been a reason. If one of the world's largest economic sectors — the automotive industry — moves slowly on-chain, it can provide a big incentive for other industries too as well.
But it's a delicate balance. Many of these enterprises are antiquated and won't have an appetite to touch crypto at all. In building DIMO, the Foundation is looking for ways to support intermediaries that will allow traditional auto enterprises to access the on-chain vehicles and drivers of DIMO.
Today, that looks like the cart below. These are rewards payouts (to DIMO users) for transactions between DIMO users and ecosystem partners. With only a handful of partners live (but many more in the pipeline) the Foundation is helping to put some of the transactions between partners and drivers on-chain.
Ecosystem partner transactions are really the key KPI to watch with DIMO. These transactions indicate partners showing up and spending money to acquire data and users. Right now, these numbers are subject to off chain reporting cycles (partner closes business and reports it to the DIMO Foundation a month later) but DIMO is working to speed up that reporting and make it seamless.
As this number starts going up, it's a direct measure in the value of the DIMO Network. When users share their vehicle data with a provider for access to services, it closes the loop in building the network.
Build when disruption is happening
One of the many reasons we love building DIMO is that the auto industry is in the midst of several massive transitions. Connecting cars, electrifying them, and introducing automated driving systems are huge changes to an industry that has companies over 100 years old.
We always like to start with the consumer impact. What does this mean for drivers, today? It means that as people get new cars (or manage their old ones) the connectivity of that car will increasingly become a factor in the overall experience of owning it. Does your car have an API where you can pull the data or a developer can? Does the software update on the car frequently? Is that a pain point or a benefit?
When a car is minted on DIMO, the make of the car is one of the pieces published on-chain. The resulting data tells us something about how easy it is to interface with that car's data. If you believe that the software running on a car is important to its value (note: the car's internal software, not the infotainment system where you probably want CarPlay) then this is a great indicator about which car makers are building better software or more open cars.
Track which cars are connected to DIMO to see which OEMs are embracing software openness: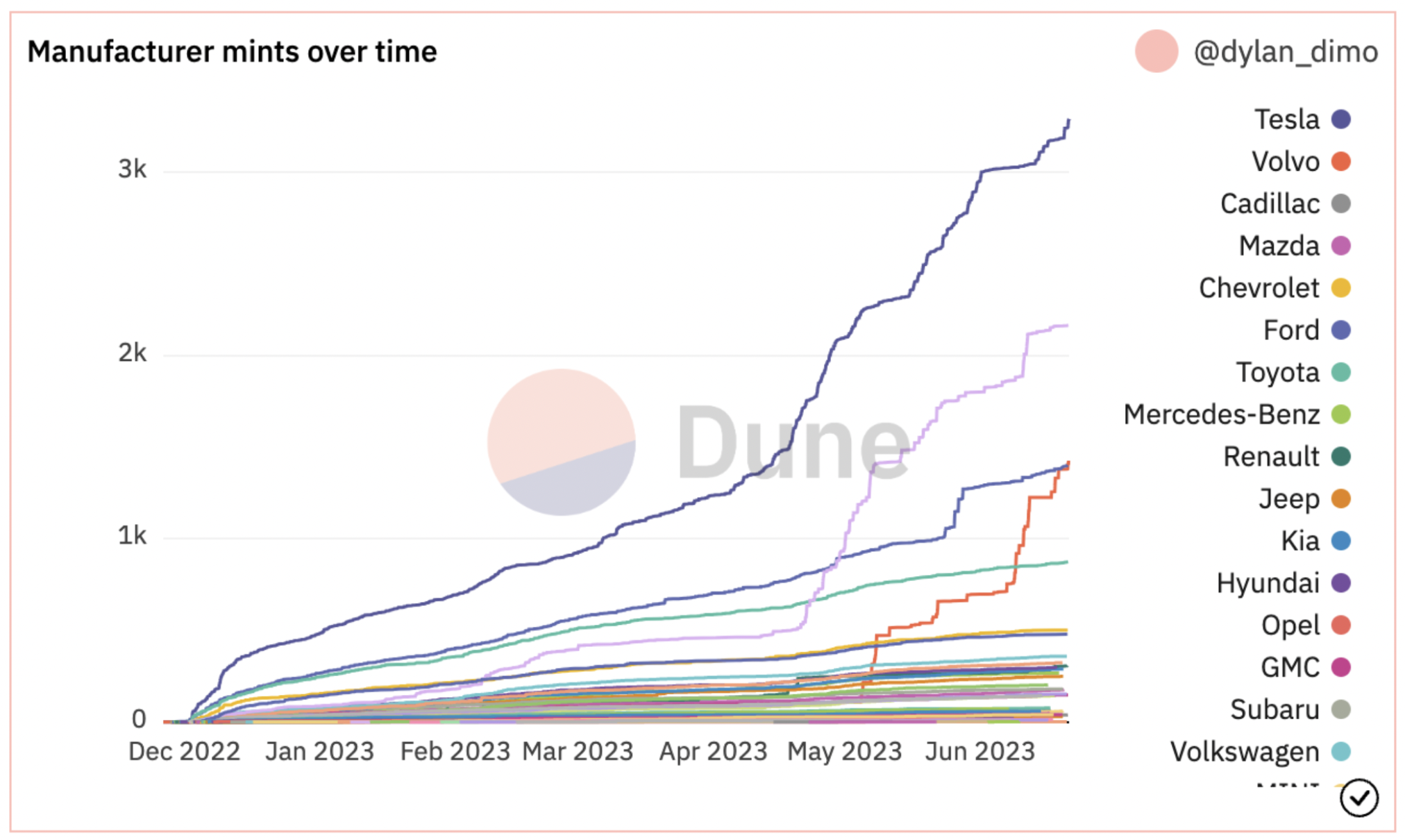 A critical not-yet-on-chain KPI: Total Value Connected
As we've shared a few times in this report, the auto industry is not very on-chain. That means many exciting and important KPIs are not yet on-chain either. Since DIMO is building in a space that has not yet had much attention from the web3 world, it's on DIMO to make many of these primitives accessible.
One of the best measures of the network's growth and potential is the value of the vehicles connected to DIMO. Cars are usually the second largest spend category for most consumers, so it's unsurprising that even +16,000 cars connected produces a very large number when it comes to the value of those cars connected. Today, there is over $300M worth of cars connected to DIMO.
Why is this number so interesting other than just being big? Each of these cars will need maintenance, insurance, financing, and will eventually be sold used 2-3 times. The Total Value Connected (TVC) thus represents a major value indicator for the DIMO Network.
Better web3 products and onramps
DIMO's founding team has been in crypto for years. 2016/17 and then DeFi summer was an amazing boom to participate in. But something happened and for the last few years it's been copy pasta and hype. We've watched crypto eat its own tail as much of the industry tries to bring new people to crypto with the same overly-financial and technical products.
We're excited to bring a product to market that does the most possible to minimize the mindshare that web3 jargon and UX has on the product experience. A great product shouldn't constantly remind you of the tech it's built on, it should just be a great experience that makes your life better.
Cars and the economy built around the industry is one of the largest sectors in the world and represents one of the largest consumer spend categories. Making an impact here can impact billions across the world. As we build DIMO, that's our mission — make car ownership better for everyone.

Written by: Alex Rawitz
Cofounder
Alex Rawitz has spent 10 years in and around startups in the crypto and IoT world, and is always looking to put these technologies to work making people's lives better. Prior to DIMO, Alex worked with exchanges, defi protocols, and fintechs at Chainalysis. Before that he worked in sales at Servato, an IoT company in the telecom space. He started his career at a startup accelerator, The Idea Village, in New Orleans.