Today we're launching the DIMO Mobile app on the Apple App Store! Android will be shortly behind, and this post gives users an outline of what they can currently do in the app (a lot!) and what's coming (way, way more!) Of course the best way to see what you can do with the app is to download the app and start using it.
The bottom line is that the DIMO Mobile App will be the primary way to use DIMO for most users. Small fleets and prosumers will continue to find value in the web app (app.dimo.zone). Overtime, you'll be crazy not to have your car, your family's cars, or your fleet hooked up to DIMO.
The Mobile app at Launch
Get started, access your account on the go, and start earning:
Add your car(s): Users in the US and Europe will be able to add their car to DIMO by searching for their vehicle during onboarding. Once added, the app will provide some guidance on the ways you can connect your car.
Connect your Car: Many cars do not need a DIMO Data Miner to start collecting data in DIMO.
Collect and See Your Vehicle Data: Once connected, you'll start collecting your vehicle data.

Dashboard: See the latest data from your vehicle (historical data soon).
Activity Log: Track key events and updates to your vehicle in the Activity Log

Protect Your Privacy: DIMO knows users value their privacy, particularly for their location and driving habits. More info on privacy here - and make sure to set your privacy fence!
Grow DIMO, refer friends: You can still go to app.dimo.zone, log in, and grab your referral link. When your referrals connect, you'll earn rewards!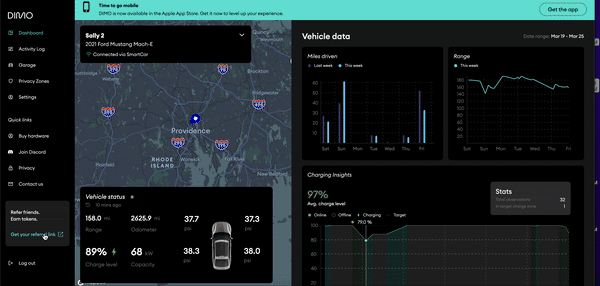 What's coming soon (1-2 mo)
We're going to devote a significant amount of time to taking feedback, conducting user interviews, and improving features that already exist in the app, but you can also expect lots of new features:
Android Release: In the coming weeks, we'll work to release the Android version of the mobile app so that drivers can participate regardless of the type of phone they use.
Points: Testnet points are already being calculated, just not displayed. By connecting your vehicle or ordering hardware, you're starting to earn. We'll display these in the app soon.
Referral Program 2.0: The existing (link-driven) referral program is still running, but you have to grab your referral link out of webapp. We'll build a mobile-first version quickly.
New Charts and Data: We're just displaying the tip of the iceberg when it comes to your vehicle data. We're building more tools to analyze and draw insight from your data, and you'll be able to see it soon!.
AutoPi Pairing: One of the biggest milestones on the roadmap, we'll enable bluetooth pairing so that users can securely install their DIMO Data Miner and take the next step on collecting their data. If you want to get your hands on some DIMO-enabled hardware we're launching a new batch of preorder spots for the EU on 3/14!
The DIMO-verse is just getting rolling - all part of our biggest month yet for the project. We hope you enjoy using the DIMO Mobile App.
Written by: Alex Rawitz
Cofounder
Alex Rawitz has spent 10 years in and around startups in the crypto and IoT world, and is always looking to put these technologies to work making people's lives better. Prior to DIMO, Alex worked with exchanges, defi protocols, and fintechs at Chainalysis. Before that he worked in sales at Servato, an IoT company in the telecom space. He started his career at a startup accelerator, The Idea Village, in New Orleans.