Launching DIMO Rewards Points
It's finally here! No, not the $DIMO token...but the first version of the DIMO rewards engine is live and test points are visible in the 1.1.0 mobile app on iOS, with Android coming out very 🔜!
Users with a connected vehicle will start to see a "test points" balance in the their account. This post explains what the test points are and why we're launching this early version of rewards.
If your car is connected via Smartcar or Tesla, you'll see your points today.
Over 1,000 cars connected to DIMO are now qualifying for rewards every week, including one user who topped out the leaderboard with 10,000 points by connecting 4 cars and having  a 4+ week connectivity streak on all of them! (DIMO 🥰 early adopters)
Here's how rewards look today in our test account:
Here's the detail on how miners are rewarded
Stay tuned in discord, and make sure to add your vehicle to app.dimo.zone or on the DIMO mobile apps even if you can't connect today. We'll be blasting emails out as more connectivity options become available.
Q: How do drivers earn these test points exactly?
A: First you have to sign up for DIMO here. Then you either need to purchase a DIMO Data Miner or you can connect without a device using your supported connected car subscription if you have one. You must stay connected each week to keep earning. The following table shows how points will be calculated to start.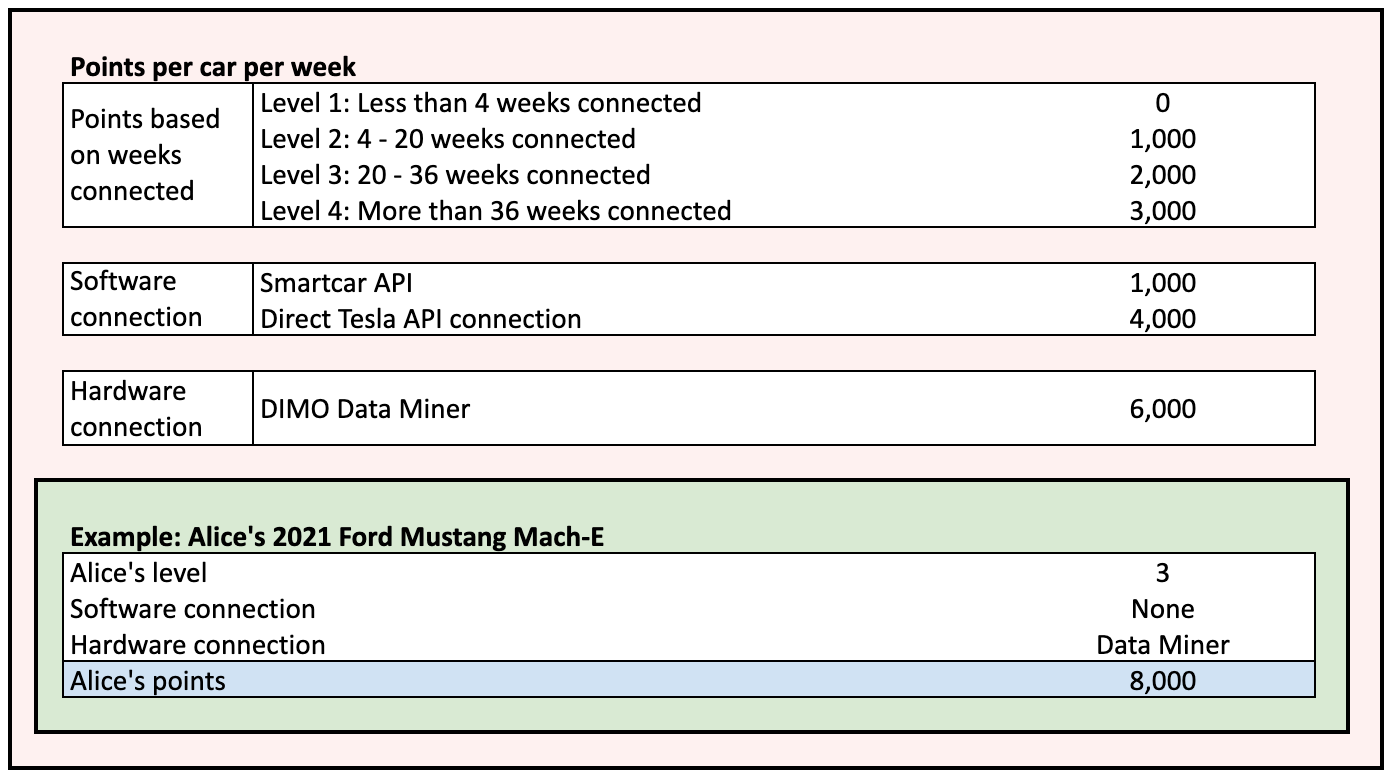 Q: Do these points include referrals?
Not yet! We're tracking referrals on the backend and we'll start to layer those in to the point total soon.
Q: I thought we'd also earn more for having an electric vehicle or plug-in-hybrid?
A: That is still the plan and we plan to retroactively reward test points for this. We're choosing to move fast here, so we're shipping points without this "green bonus", which will be added in the coming months.
Q: What are these test points good for?
A: We're using these test points as a means to test our rewards engine in advance issuing real tokens on the blockchain. It's really useful to the engineers to have this testing in production.
As a user, there won't be any value to these points right now. We cannot get specific today on exactly if and how these experimental points will entitle users to rewards.
Q: When will I see the rewards in the app?
Users who have connected their car via software will start seeing points this month. If you have purchased a DIMO Data Miner, you will see points once you have paired it using the app. At first we'll just show you the points from pairing on ward, but we'll eventually add the points in you would have earned from order date to pairing. Test points are issued weekly - so you won't see them updating every day (for now).
Q: Are test points crypto tokens? Are they transferable?
A: No. These are not. And in no circumstance will points convert to $DIMO tokens 1:1. To read more about how a future version of points relates to tokens, check out our documents.
Q: Will there be other ways to earn points?
A: We may sprinkle test points on users for things like completing surveys, decoding dbc codes, creating high-quality device installation guides, posting fire memes in discord or reddit, etc.
Q: When will you start calculating them?
A: We already are! We'll look backwards and calculate test points retroactively based on when you connected your car or when you ordered a DIMO Data Miner.
Q: What if I purchased a DIMO Data Miner but it hasn't arrived yet? I would have connected already if it shipped by now.
A: Good news! You will earn test points as if you installed your device on the day you ordered it. For example, if you ordered your device on March 1st, we'll count your car as connected on March 1st.
Thanks for reading! Sign up today so you can start earning test points! Also, join our Discord or follow us on Twitter to stay plugged in.
Written by: Rob Solomon
Cofounder
Rob is a cofounder at DIMO, an open connected vehicle platform. Rob's background is in finance, investing, and organizational design. Most recently, he worked at Consensys, the largest Ethereum focused development company, with a focus on finance, internal economics, and decentralizing the organization. Prior to that, he was at Vroom, a pioneer in the online used-car marketplace sector. He started his career at the Downtown Project in Las Vegas (a spinoff of Zappos.com) working on corporate finance, investments, and implementing Holacracy.