DIMO Mobile App: End of Year Releases
Today we're announcing major feature releases we have lined up for the rest of 2022. Get ready, because we're beginning to roll out massive updates that will transform the way you interact with DIMO on a daily basis. As always, we're focused on saving you a ton of money and time and giving you better access to your vehicle data.
Starting with…
Vehicle Intel & Valuation

Eligibility Checklist

DIMO Explorer

The DIMO Ecosystem & New Integrations
Vehicle Intelligence & Valuation Data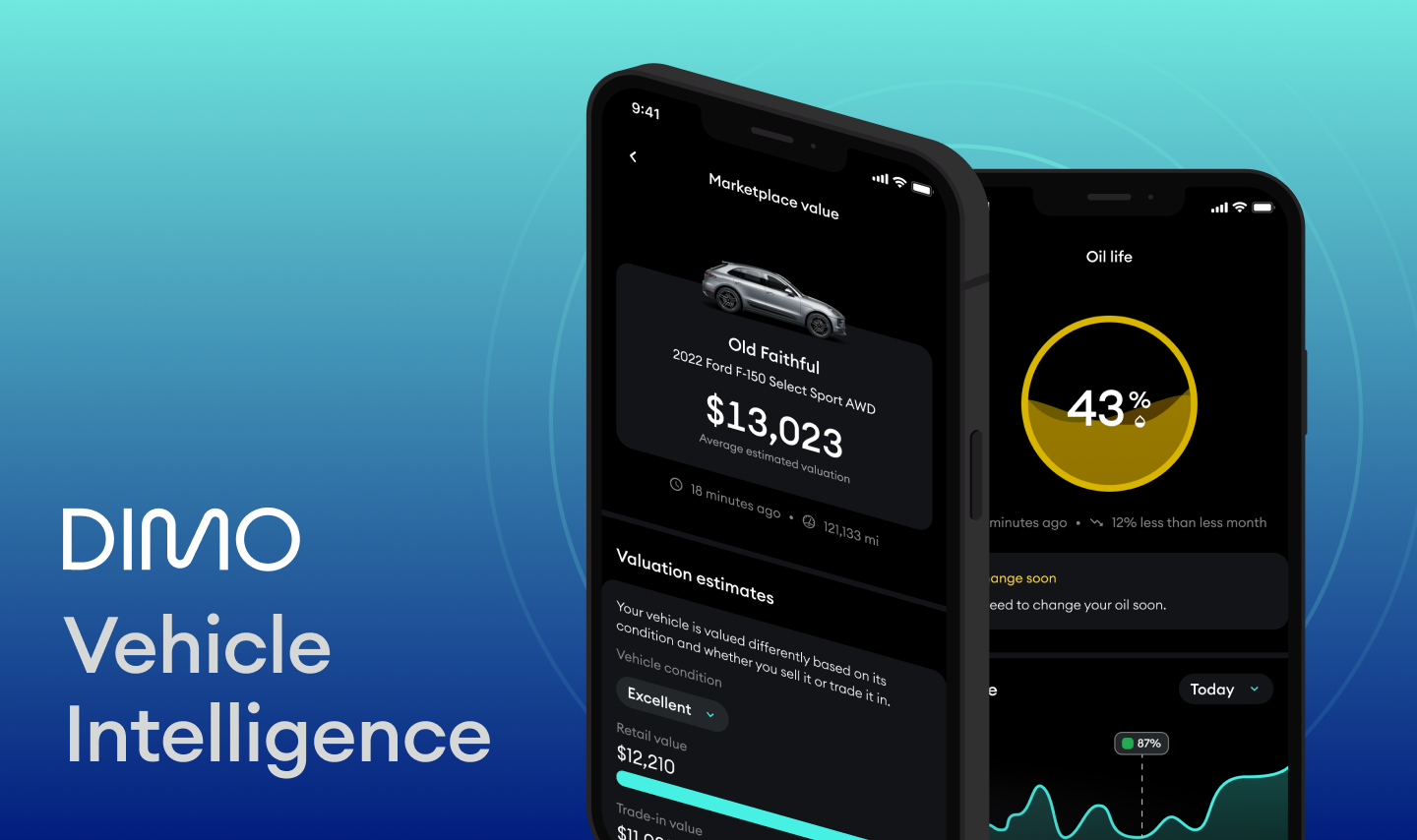 The DIMO Mobile app is your always-on, all-knowing expert on your car - now connected with more resources than ever. With this update, the mobile app now sources data from the top "instant offer" providers, tracks those values for you, and can put you directly in touch with other resources that help you source the best price for your vehicle.
We're bringing together an ecosystem of partners to help you navigate the industry with this new information. There are now a handful of partners that can help you sell your car, refinance, buy out your lease, and take just about any action you need in order to save money. Once the token has launched, any time you interact with one of these services, you'll earn more $DIMO for transacting with the partners.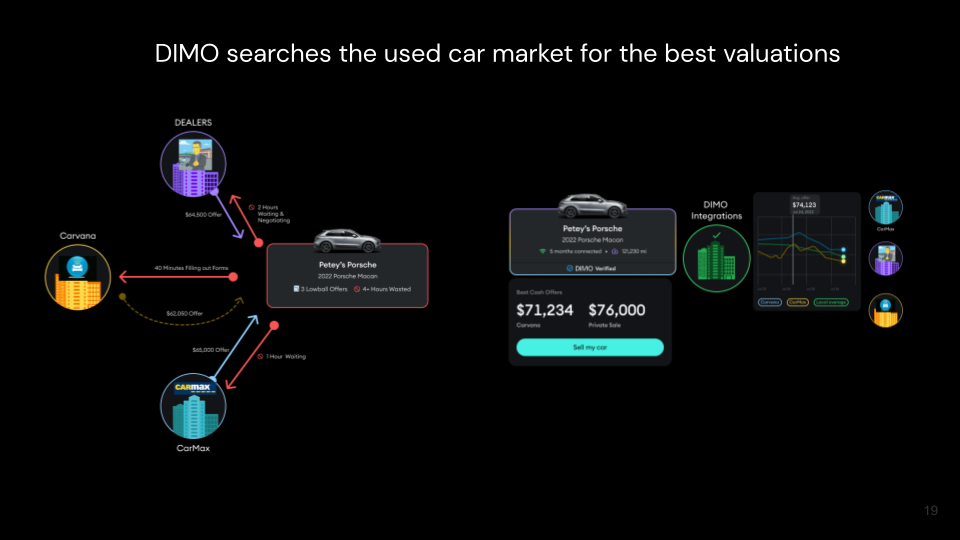 Beyond valuation, we're making the health data on your car more accessible. For hardware users primarily, we're devoting a lot of energy to bringing you more data. In the coming weeks you'll start to see those fields you've been missing appear and populate. Tips are being released to the DIMO Mobile App, giving you personalized suggestions on how to improve your car's performance and save money.
One of our first improvements to health data is the addition of Maintenance Error Codes, which will allow users to self-diagnose their car's issues providing users with the same amount of data every mechanic has access to when servicing your car. In other words, with this new feature, DIMO is about to answer the age old question: "Is my mechanic taking advantage of me?" Right now this is in alpha, and you can use this link to get early access to Error Codes functionality on your device.
Vehicle valuation and Vehicle commerce partners only exist for the United States. If you're a partner interested in offering valuation services or sourcing buyers and sellers anywhere DIMO operates, you can reach out to [email protected].

Eligibility Checklist
DIMO mainnet launch is coming soon. There will be quite a bit more information released in depth shortly, but for now, know that a simple checklist is coming to the app to make sure you're ready for the $DIMO launch.
All users will be required to create (or re-create if you already have one) your vehicle ID. Some underlying changes to the infrastructure (if you're technically inclined, here's the new Vehicle ID contract) have been made to prepare for the mainnet launch.
If you use hardware for your vehicle connection, the checklist will show you how to repair the device to make it more secure. This won't involve a full install — it should only take a few minutes to connect to the device via bluetooth, verify your VIN, and sign a message with your web3 wallet.
If you just use our Tesla or Smartcar connections, you can simply login and sign a message with your wallet and you're all set.
The Eligibility Checklist marks a final item on the road to mainnet launch and everyone in the DIMOverse should be excited about what's coming in just a few weeks.

DIMO Explorer
Released on 11/23 - Read more here
For drivers, Explorer confirms if your car is supported on the DIMO Network, and what you'll be able to do with it when you connect. Soon, it will allow you to participate directly, from adding reviews to contributing compatibility data and device install photos.
For enterprises, information about the network and the type of data users are collecting and sharing can be found across the product. Deeper sample data is available by request by reaching out to the DIMO Insights team
For developers looking to build on DIMO, you can see which vehicles have what data available as you set out to design your application.
The DIMO Ecosystem

DIMO is more than just a way to collect your vehicle data. It's a way to access the apps and services of other businesses that help save you time and money over the lifecycle of your car.
We're launching an ecosystem of integrations providing easily accessible, personalized benefits for each and every driver on the road. Put simply, the DIMO Ecosystem will be a curated app store meticulously personalized for your vehicle's make, model, and year.
With this ecosystem we're aiming to solve several massive problems within the automotive industry: data availability, accessibility to cost savings, and difficulty surrounding restructuring contracts. We want to lessen the divide between dealerships and private owners, giving owners more power to make educated decisions surrounding their vehicles, while providing some pretty cool features to take advantage of.
Here are a few of the apps we're launching with:
Vehicle Genius
Vehicle Genius can save you thousands of dollars and hours of frustration with a simple monthly subscription. Vehicle Genius has already helped DIMO users save thousands on vehicle sales, purchases, maintenance, vehicle spend checkups, and more through simple on-demand text support and transaction management.
Vehicle Genius will also interpret your vehicle's error codes, which you can read from your DIMO device. Learn more or get started.
Tenet
Lower your monthly payments on your EV by $150+/month compared to traditional vehicle financing. How? Tenet's EV-specific financing takes advantage of your car's superior value retention and tax credits to offer a deferred down payment.Learn more or get started.
Caribou
With Caribou you get offers to lower your monthly payments, saving you up to $100/month on your car payments. Unlike most financing platforms, Caribou touts an easy application process that doesn't affect your credit score. Learn more or get started.
Lease End
Lease End allows you to buy out your lease by offering tailored, personalized solutions with a simple 15 minute process, further leveling the playing field between dealerships and private car owners. Learn more or get started.
DIMO Connect
DIMO Connect transforms your DIMO x AutoPi device into a WiFi hotspot, allowing you to access the web on the go for a low monthly cost. Contact [email protected] for access to the Alpha.

---
New to DIMO? Download the DIMO Mobile App to get started.
Written by: Alex Rawitz
Cofounder
Alex Rawitz has spent 10 years in and around startups in the crypto and IoT world, and is always looking to put these technologies to work making people's lives better. Prior to DIMO, Alex worked with exchanges, defi protocols, and fintechs at Chainalysis. Before that he worked in sales at Servato, an IoT company in the telecom space. He started his career at a startup accelerator, The Idea Village, in New Orleans.