DIMO Mobile App: The Summer Season Release
Today we're announcing a big update that moves us closer to the mainnet launch, and unlocks some key building blocks for the next generation of DIMO apps. Your cars are front-and-center and we're elevating the data you need to get the most from the vehicles you connect to DIMO.
Controls, Glovebox, & Vehicle ID (NFT)
These new features that lay the foundation for the next generation of apps and services built on DIMO:
Vehicle Tab - Controls Beta
Glovebox - Store your documents
Open Vehicle ID Beta - Creating an on-chain home for your car
Vehicle Tab - Now With Controls
Your car's new one stop shop — data, status, and controls. The new Vehicle Tab puts your car data front-and-center, allowing you to understand the health of your vehicle at a glance and take real-world action on your car. As we add more functionality and partnerships, they'll show up here.
Controls Beta  – Compatible vehicles can now be securely locked and unlocked from the app – making it possible for users to access vehicle controls and data from Tesla, Ford, GM, BMW, Toyota, Hyundai, VW, Volvo, Jeep, Mercedes-Benz, Hyundai, LandRover (and more!): in the same app.
In order to use this feature, you'll need to enable vehicle commands. You will be prompted to grant permissions. Once your vehicle is added, you'll be able to lock and unlock it from the Vehicle Tab.
( ! ) We've built in a short time delay to make sure you don't accidentally pop your trunk.

What will Vehicle Controls unlock for DIMO? This building block is critical for any app that might delegate access to a vehicle such as a distributed ride or car share app or on-demand maintenance.
Glovebox
Glovebox is exactly what it sounds like — a digital Glovebox to store your most important vehicle documents like title, registration, insurance, service records, and more. For now, you can upload images of your documents to the app, but in the future DIMO will pull specific metadata like expiration dates and levels of coverage that will allow developers to build services on top of DIMO.
In order to use the Glovebox, first select the vehicle for which you'd like to upload documents, then head over to the Glovebox in the top right corner of the Vehicle Tab by tapping the three dots. Select the type of document you'd like to upload and either take a photo of it or choose it from your camera roll.
In the future, you'll be able to opt into sharing metadata from these documents, allowing new types of applications to be built on DIMO.
Open Vehicle ID - Beta
An Open Vehicle ID is a digital asset that represents the ownership of the data you collect with DIMO — you can think of it like a digital twin of your real-world vehicle (and yes, it's stored on a blockchain as an NFT). When combined with Glovebox, Open Vehicle IDs make it easier than ever for you to monetize your data, and even transact with service providers like mechanics, insurance companies, or car marketplaces.
Once you connect a web3 wallet, the Open Vehicle ID will become the simplest way to bring your car data with you to apps built with DIMO. You can easily connect a wallet by opening the settings in the profile tab of the app and following the setup instructions.
To mint your Open Vehicle ID, tap the Glovebox menu and go to the bottom of the tray where it says "Open Vehicle ID". Follow the steps to mint a digital version of your car with the car image customizer.
There are over 10,000 possible combinations you can use to express yourself through your Open Vehicle ID.
Make it look exactly like your vehicle, or dive-in and customize the body, to the wheels, to the accessories and more. If you need inspiration, you can use the randomizer button.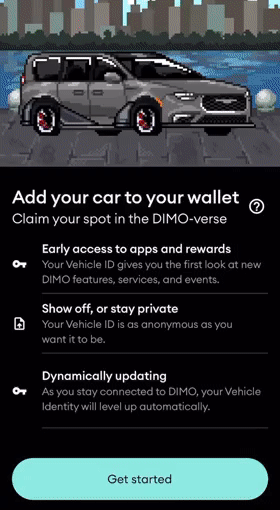 For crypto native users, this Open Vehicle ID is an NFT. This means you can add it to your web3 wallet of choice, and you'll always have the record that you were one of the first people to mint your car.
During the early days of the DIMO app ecosystem vehicle IDs will have limited functionality: sales and transfers are restricted, and it's free to mint!
Where is this headed?
The Big Idea is that having an asset that represents the data, connectivity, and identity of your vehicle will make the vehicle itself more useful and valuable.
To complete the cycle, making all of this available to developers on an open platform (like a smart-contract enabled blockchain) will unlock apps that plug vehicles into more services and turn them into more liquid assets.
Transferring Your DIMO Vehicle When You Sell Your Car
The earlier you get started collecting the data, the better - so make sure you add your car and claim your Open Vehicle ID today by downloading the app.
We will update the contract for Open Vehicle IDs in the future to add the ability to further customize the look and feel, sell the asset when you sell your vehicle, pay for apps and services, and store data in a more decentralized fashion.
If you're excited about building the future of connected devices, we're hiring designers, engineers, growth hackers, and more. You can also apply for alpha access for the DIMO developer toolkit so you can get started building your own app here.
Written by: Andy Chatham
Andy Chatham has spent 10 years in the mobility space operating some of the largest autonomous and electric vehicle fleets, and building software used by millions of passengers. Before DIMO, he worked for Transdev managing a team of hundreds working on Waymo—Google's self-driving car division. He's also worked across many other domains in the mobility world, helping transit and real estate partners leverage new technologies and deploy mobility-as-a-service solutions.