How we're making DIMO Mobile—a Web3 app—as seamless as Web2

Our mission is to bring new applications, cost saving services, and the best connected vehicle experience to the world. Millions are getting a taste for what it means to have a "connected car" and so far, it isn't great: clunky apps from automakers, software that won't update on an incline, and user data sold off to dozens of companies. DIMO is here to fix this.
DIMO runs on open source blockchain technology, and part of connecting a car is to create a digital identity for the vehicle. We're early to crypto, so for early adopters, those steps have been clunky. Crypto is generally more of a hinderance than an aid to user adoption.
But it doesn't have to be. We've been hard at work for the month of January on two big features that will help DIMO take a massive step in the natural progression of mass adoption. The universally loved DIMO UI is about to get easier to use, share, and build with.
Introducing the DIMO In-App Wallet (BETA)
For the ~6,000 cars connected to the platform, each user had to go through a complex pairing process using a non-custodial wallet like Rainbow or Metamask and mediated by Wallet Connect. It's been clunky, unintuitive, and prone to breaking down.
Today, we're introducing an in-app wallet that simplifies the onboarding process immensely, taking out several steps in the onboarding process all together. A user will now be able to go through the entire process without leaving the app.
In other words, we've shortened up a lengthy process into 4 quick steps:

1. Download DIMO Mobile
2. Connect your DIMO Hardware
3. Create your in-app wallet
4. Connect your car
A simple change that will cut down onboarding times drastically, and result in thousands of first time crypto users eager to get started. Users will still have the option to pair with Rainbow or Metamask if they'd like.
With this step, you can now easily onboard your non-crypto friends and family. It's never been easier to get them started in crypto, and in fact, they don't even have to think about crypto at all. We're using the same blockchain (Polygon) as Starbucks' rewards program - DIMO rewards are an airline reward point for your car.
More users transacting on the platform = stronger DIMO Network.
Introducing Vehicle Sharing (BETA)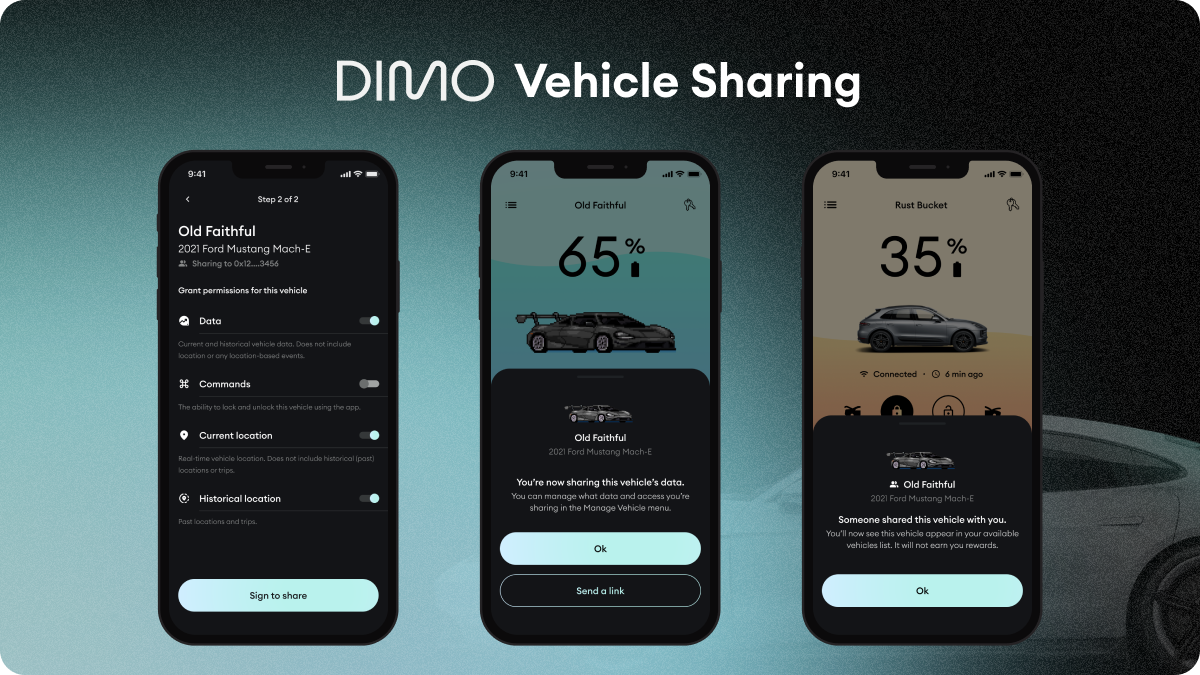 Users will soon be able to share their car on DIMO Mobile to any other DIMO Mobile user. This is perfect for family members to share a view of their car or cars, small fleets looking to share vehicle data internally, and even some businesses getting started on DIMO.
We're looking forward to getting DIMO in the hands of more users eager to save money on the platform.
By simply selecting the appropriate level of data access and pulling up an in-app QR code, any DIMO user will be able to share their car with a quick QR code scan.
As we're working through the beta, there will be a couple limitations to achieving a completely seamless process. Currently, a wallet (in-app or 3rd party) with $MATIC is required to accept the share.
So what are the use cases for this?

Sharing Fleets with Business Partners
Having multiple eyes on your connected fleet should essentially be a requirement.
Whether you're managing a Turo fleet out of your driveway, dozens of vans making trips back and forth to multiple warehouses, or even an organized race across the country, sharing your vehicle data and location across multiple contacts can completely change how you run your business.
Let's say you own a delivery company with 20+ vehicles making dozens of stops a day, all with jam packed schedules. Having a vehicle in the shop during a peak delivery period could cost you revenue and potentially result in a loss of a customer.
Know when your vehicle will break down before it happens, where your vehicles are at all times, and learn how you could save thousands when you're ready to sell.
To learn more about fleets, and access a bulk discount on DIMO Hardware for your fleet, read our most recent fleets write up or contact us at [email protected].
Sharing with Family and Friends
We've already seen a massive amount of DIMO users report how having access to DIMO data has saved their family hundreds, if not thousands at the mechanic. Granting your family access to your vehicle's data makes saving that much easier.
One of the main ways users are saving at the mechanic is on their car battery. Mechanics use time as an indicator to recommend maintenance; batteries are the most popular upsell.
Anyone who lives in a city, whether they park on public street parking or in a large garage, will benefit from using DIMO to share their car's location with their close relatives.
Sure, you could use an Apple Airtag for location tracking (and 10 separate apps and plugins for other features). Or you could use DIMO, which acts as a one stop shop, combining everything you'd ever need for your car all in one place.
Error codes are under development too. Soon, you'll be able to share these with your mechanic, and counter any repair requests before you waste thousands on unnecessary servicing.
Sharing with New Owners
If you're looking to privately sell your car, using DIMO as a way to confidently talk through your car's health and history turns you into a confident and educated seller. By allowing the prospective owner to see any error codes, maintenance issues, and car history, you're able to give yourself a great pitch with the confidence of a part-time mechanic.
Once you're ready to sell, transfer ownership to the new owner and complete the sale.
Written by: Alex Rawitz
Cofounder
Alex Rawitz has spent 10 years in and around startups in the crypto and IoT world, and is always looking to put these technologies to work making people's lives better. Prior to DIMO, Alex worked with exchanges, defi protocols, and fintechs at Chainalysis. Before that he worked in sales at Servato, an IoT company in the telecom space. He started his career at a startup accelerator, The Idea Village, in New Orleans.